McCarty, Steven
NAME: Steven McCarty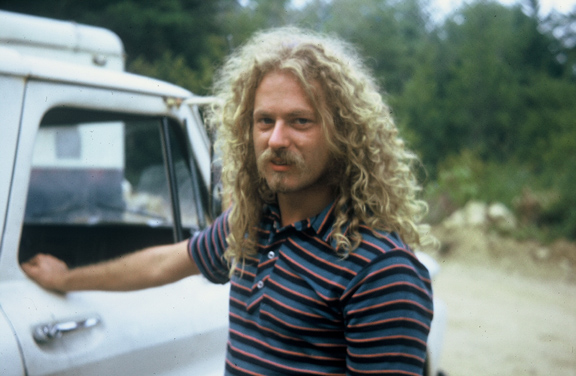 Biography: (From Allen Young):

Steven McCarty formerly lived in West Virginia, and lived in Philly around 1968-70 and was involved in a gay crafts coop and urban commune of sorts called the Gazoo. He moved to the San Francisco Bay Area, where he interacted with many early gay liberationists, and later was one of the five founders of Butterworth Farm (with Arthur Platt) in Royalston, Massachusetts, in 1973. He moved back to California in the early 1980s and worked as a personal chef for Werner Erhardt, the founder of EST, the immensely popular human potential movement program. He was also an accomplished landscape painter. He died of AIDS in 1989. I am attaching a photo of Steven taken in 1973.
Picture: (Insert picture if available)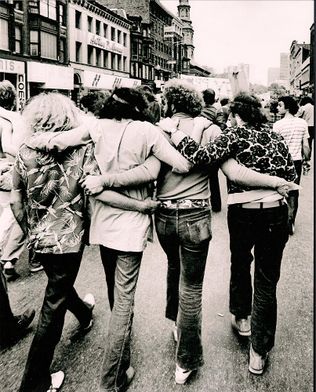 Hi Chris, well, here's the photo. It was taken at the 1972 Gay Pride march in Boston, Mass. In the photo are four of the five founders of Butterworth Farm, our unique gay community here in north central Massachusetts. Left to right, Steve McCarty (also on your site, I think, as a former Philly resident); his dear friend Arthur Platt; Steve's boyfriend Bob Gravley; and Allen Young.
Gay liberationist and photographer Steven Dansky commented to me that this photo belongs to a unique "genre" of gay photos -- showing the back of people because media were worried about libel lawsuits related to stating that someone is gay (which used to be libelous -- a very recent court decision said this is no longer the case.) You can work on the caption based on what I've written here, OK? Of course, I realize you may not want to use the photo at all because you cannot see the faces, but as I said, I find the photo fascinating, and of course four guys with arms around one another on gay pride day, back in the early years, is so sweet.

Date of Birth: 10/11/1945
Date of Death (delete if non-applicable): 2/22/1989
Age at Death (delete if non-applicable): 43
Employment:

Social/Political Groups he attends/attended:

Bars/Clubs he attends/attended:

His friends include: (type your name here, or names of others)

Testimonials to him (add a space before a new testimonial):