Zalewski, Andrew
NAME: Andrew J. Zalewski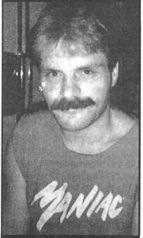 Biography:

From Au Courant, July 12, 1983

Andrew J. Zalewski, 32, of Wilmington, Delaware, died June 20 of complications from AIDS. Andrew last worked as a temporary employee for a banking company in Wilmington. He previously worked in the catering department at the Seraton-Brandywine Hundred. He moved to Wilmington 10 years ago from Chester, Pennsylvania.

Andrew enjoyed bowling, trips to the Bahamas and staying at Rehoboth Beach. He is survived by his parents Joseph and Erminia Zalewski of Chester, PA, and five brothers and two sisters who also reside in Pennsylvania. He is also survived by Carl Harrison of Wilmington, Delaware with whom he lived for the past five years.

Services were held June 23 at Nolan-Fidel Funeral Home, and the burial was at Chester Rural Cememtery in Chester, PA.

Donations can be made in Andrew's name to the HIV Community Program, Attention: Pauline Lauer, Wilmington Hospital, PO Box 1668, Wilmington, DE, 1899

Date of Birth: 1951
Date of Death: June 20, 1983
Age at Death: 32
Employment:

Social/Political Groups he attends/attended:

Bars/Clubs he attends/attended:

His friends include: (type your name here, or names of others)

Testimonials to him (add a space before a new testimonial):