Weaver, William
NAME: WILLIAM WEAVER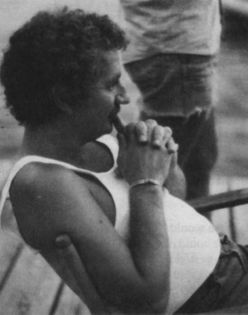 Biography:
Bill Weaver came to Philadelphia from Hughesville, PA, by way of New Haven CT, he graduated from the Culinary Institute of America. One of six children, he grew up on the family farm, where he showed an interest in cooking and a fascination with restaurants at a very early age. His sister Connie recalls that he frequently played "restaurant," using an out-building appointed with gingham curtains as the site to serve his mud pies.

His arrival in Philadelphia coincided with what would later be termed the "Restaurant Renaissance." He brought with him a small town warmth that he would retain even after he had acquired a knowledge of and a taste for things urbane. He was a family man, a tolerant family man whose family members were from all walks of his life.

It was at the urging of his college roommate, George Pechin, that Billy accepted a psoition at the the very popular Les Amis. His talents soon came to the attention of the owner of Friday, Saturday, Sunday. The relatively new venture, just off Rittenhouse Square, was in need of a chef. Seizing this opportunity, Billy found a niche and created a menu that was elegant and appealing in its simplicity. This collaboration would last for 15 years.

A peerless orchestrator of parties, Billy loved to entertain. He recognized the importance of the creative component in cooking and truly loved his work. If nothing else, Billy taught us that cooking is fun.

from Philadelphia Stories: a Dining Out for Life Cookbook, 1993
Date of Birth: April 17, 1951
Date of Death: March 4, 1991
Age at Death 39
Employment: Les Ami, Friday, Saturday, Sunday
Billy was a chef at Friday, Saturday and Sunday restaurant in the Rittenhouse neighborhood of Philadelphia.
His obituary is here:
[[1]]
Billy Weaver; Chef Had Flair And A Following
by Ralph Cipriano, Inquirer Staff Writer

POSTED: March 06, 1991
The menu at the Friday Saturday Sunday restaurant in Center City is always written on a blackboard.
And the longtime head chef, Billy Weaver, was just as casual. In the summertime, when he finished cooking a rack of lamb, Mr. Weaver would stroll out of the kitchen, a white apron over his white shirt and shorts, sit down at a table and have a cup of coffee with his guests.
"He loved a party," said Lewis Bolno, a chef who worked with Mr. Weaver. He would wander from table to table. He loved being involved with everybody. It didn't matter whether you were a Center City socialite or a plain Jane."
Mr. Weaver, 39, of Center City, died Monday at Pennsylvania Hospital after a two-year illness. He was head chef at the well-known restaurant at 261 S. 21st St. from 1975 until 1989, when illness forced him to retire.
Friday Saturday Sunday is one of the original Philadelphia renaissance restaurants, opening in 1973, and is one of the few from that period still in business.
A big reason for that success was Mr. Weaver's cooking.
"Billy made good, wholesome food with a flair back in the days when everybody else was making fancy stuff," said Julie Dannenbaum, a cookbook author who ran a school in the city for chefs.
Mr. Weaver was famous for a rack of lamb that was cooked rare or medium- rare and garnished with pepper, salt, fresh garlic and thyme. He also was known for his poached salmon, his stuffed cornish hens and his cream of mushroom soup.
His work got rave reviews.
"I took James Beard to his restaurant" in the late 1970s, Dannenbaum recalled. "James Beard clapped when Billy came in. Billy had a tear in his eye."
Mr. Weaver was an extrovert who always drew a crowd. When he didn't come out to see them, customers would wave to him through the kitchen window. Often, they walked in and watched while he put together a dinner. He was generous with others about his cooking techniques.
"He was the least temperamental chef that I ever met," said Rose Guarrera, who supplied Mr. Weaver with meat. "He was just a sweet, nice man. He would do anything for you."
Guarrera said her husband didn't like rice, so when he came to the restaurant, Mr. Weaver always made "special vegetables for him. And he would do it for anybody, not just us."
Mr. Weaver had a hard time saying no to anybody.
In 1978, Phyllis Napoli was a frustrated legal secretary who wanted to become a cook. She made the rounds of city restaurants, but nobody was interested in hiring her because she had no experience.
The only person who couldn't say no was Mr. Weaver.
"He finally hired me because I bugged him on the phone," recalled Napoli, who became a chef. "I called him on the phone once a day for two weeks straight. Finally, he said, 'Just come in and I'll show you how to cook.' "
Born in Muncy, Pa., Mr. Weaver was a graduate of Brandywine Junior College and the Culinary Institute of America in Hyde Park, N.Y.
His father, George E. Weaver, died in 1989.
He is survived by his mother, Dorothy A. Webb Weaver; brothers, George D. and Thomas E.; sisters, Linda J. Mowery, Connie L. Burkhart and Betsy Jane Sheets, and a favorite aunt, Charlotte E. "Aunt Beige" Raymond.
A memorial service will be held at 2 p.m. Saturday at University of the Arts Building, Broad and Pine Streets. A second memorial service will be held at 11 a.m. March 16 at Hughesville First Baptist Church, Water and Third Streets, Hughesville, Pa.

Social/Political Groups he attends/attended:

Bars/Clubs he attends/attended:

His friends include: (type your name here, or names of others)

Testimonials to him (add a space before a new testimonial):