Silkey, Rusel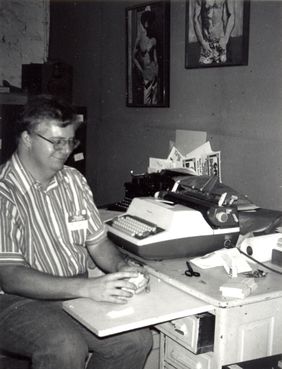 Biography:
Date of Birth: May 11, 1945
Date of Death: June 15, 1992
Age at Death: 47

1. The Rusel Silkey Prize in the Humanities and Social Sciences at Widener University is awarded to an outstanding student majoring in the humanities
or social sciences who contributed to our understanding of minority or women's issues.

2. The Weekly Gayzette was founded and edited by singer/songwriter Tom Wilson Weinberg. The Gayzette staff included Dan Martin, Joe DeMarco (editor of New Gay Life), Rusel Silkey, Harry Langhorne, and Tommi Avicolli Mecca. (from Gay and Lesbian Philadelphia, by Thom Nickels).

3. Rusel's large collection of LGBT materials formed the basis of the present John J. Wilcox Jr. Archives at the William Way Center. Rusel served as archivist there until his death in 1992.

Rusel's obituary from the Philadelphia Daily News, June 17, 1992:

Rusel Silkey , a Philadelphia Library employee, died Monday. He was 47 and lived in West Philadelphia.

Silkey had worked in the rare books department of the main library on Logan Square since 1981. In 1987 he received the President's Award for Excellence in library service. He also was treasurer of the staff association at the library. Among his duties was giving tours to schoolchildren and other groups. "He was the most compassionate, generous person you could imagine. He probably gave away more than he kept for himself, whether we are talking about emotional support or material," said Cornelia King, a co-worker in the rare books department. "He was very sensitive to everybody. He treated everybody at every level with extraordinary respect. He was such a decent guy that people would come to talk to him about their situations. He gave a lot of personal time."

Before going to work for the library, Silkey had been a travel agent. Raised in Norfolk, Va., he received a bachelor's degree in history from La Salle University and did graduate work at Old Dominion College in Norfolk. According to King, Silkey had been a gay activist, editing the Philadelphia Gayzette in the 1970s.
Survivors include his mother, Mary Silkey; a sister, Mary Patre Courtemanche; a brother, Dr. Michael Silkey, and two nephews. A memorial service will be held from 7 to 9 tonight at the Oliver Bair Funeral Home, 1920 Sansom St.

Contributions may be made to the AIDS Coalition of Southern New Jersey, 900 Haddon Ave., Suite 210, Collingswood, N.J. 08108.
Employment: Rare Books Department, Free Library of Philadelphia

Social/Political Groups he attends/attended: Many gay and civil rights groups

Bars/Clubs he attends/attended:

His friends include: (type your name here, or names of others) Michael Seltzer, Harry T. Kelly, Jr., Lewis Rathbone, Harry Langhorne, Simeon Meadows White.
Testimonials to him (add a space before a new testimonial):