Schwartz, Fritz
NAME: Schwartz, Frederick E. ("Fritz")
Biography:
Picture: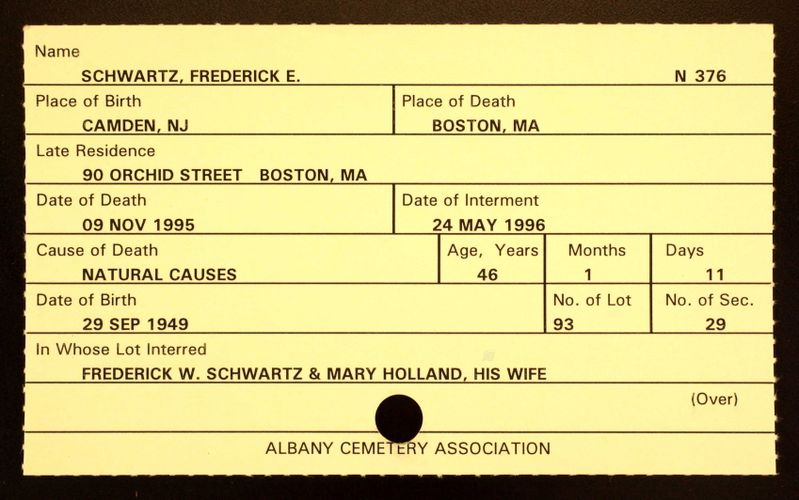 Date of Birth: September 29,1949
Date of Death: November 9,1995
Age at Death: 46
Address:
16 Clarendon St # 2, Boston, MA, 02116-6117 (1996)
[246 S Huntingdon 15, Boston, MA, 02130 (1992)]
[246 S Huntington Ave Apt 15, Jamaica Plain, MA, 02130-4805 (1994)]

Employment: Fritz worked at the Fine Arts Library of the University of Pennsylvania, then in the Boston area for library technical information services at which he became an expert.

Social/Political Groups he attends/attended:

Bars/Clubs he attends/attended:

His friends include: (type your name here, or names of others): Bob Stewart

Testimonials to him (add a space before a new testimonial):

Fritz lived in West Philadelphia somewhere near Baltimore Avenue. He was enthusiastically interested in many subjects, including music and botany. I remember his inviting me and some other friends to his apartment one evening to witness the flowering of a night-blooming cereus while we enjoyed wine and listened to Ella Fitzgerald recordings. - Bob Stewart

The NASIG (North American Serials Interest Group) Fritz Schwartz Education Scholarship was named in honor of Fritz Schwartz, who was a well-known and highly respected authority on Electronic Data Interchange (EDI), the Internet, and library standards. A frequent speaker at NASIG annual conferences, his last NASIG appearance was to conduct a highly rated workshop at the 10th Conference at Duke University in 1995. He actively participated in the National Information Standards Organization (NISO) and the International Committee on EDI for Serials (ICEDIS). At the time of his death, Fritz was Manager of Electronic Services and Standards at the Faxon Company. NASIG is pleased to offer this scholarship in memory of Fritz's many contributions to the library profession and to honor his energy, warmth, humor, and passion for standards.