Reale, Joseph
NAME: Joseph Reale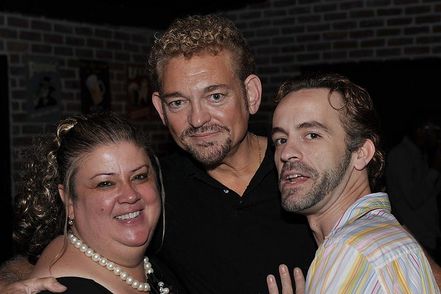 Biography:

2012 PGN Obituary by Jen Colletta:

Joseph Reale, a longtime employee of Macy's and a frequent face in the Gayborhood, died Jan. 17 of a heart attack. He was 57.

Reale was a resident of Mount Laurel, N.J., and managed the Lancôme counter at the Macy's store in Moorestown, where he worked for more than two decades.

Reale was a native of Riverside, N.J., and graduated from Riverside High School and later Rutgers University, where he majored in communication and liberal arts.

He lived throughout South Jersey — in other locales like Cherry Hill and Delran — but visited Center City frequently for nights out at Gayborhood bars.

Memorial cards handed out at his services earlier this week described a number of Reale's traits — "a people person who always tried to do the right thing. Creative, smooth and classic. A striking presence, flawless appearance and well-tailored look. He had a passion to bring out the underlying beauty in others."

Ian Molish, Reale's former partner, said his friend was in the ideal career.

"He was an artist," he said. "He could make anyone look great. He had such a talent for making people look good."

In addition to Macy's, Reale had also worked in make-up departments at Bamberger's, Wanamaker's, Hecht's and Strawbridge's.

Reale's nameplates from his former employers were on display at his viewing this week.

Reale's artistic talents were evidenced in his other hobbies, as he was a skilled drawer and painter, especially sponge-paint works.

He was also an avid gardener, a craft he inherited from his late father, and a talented singer.

Former partner Michael Reale said he will remember his friend most for his gentle and generous nature.

"Joe was a very, very kind man, a good man," he said, noting that, after they separated, Reale became good friends with his current partner. "My current partner and Joe were the best of friends, he was that good of a person. He was just a sweet, kind person."

In addition to a wide circle of friends, Reale is survived by his mother, Frances, whom he cared for and who is suffering from Alzheimer's disease.

In lieu of flowers and memorial gifts, contributions can be made to his mother's care through Sweeney Funeral Home, 337 Bridgeboro St., P.O. Box 234, Riverside, N.J. 08075.
Date of Birth: 1955
Date of Death: January 17, 2012
Age at Death: 57
Employment:

Social/Political Groups he attends/attended:

Bars/Clubs he attends/attended:

His friends include: (type your name here, or names of others)

Testimonials to him (add a space before a new testimonial):