Oreski, Michael
NAME: MICHAEL ORESKI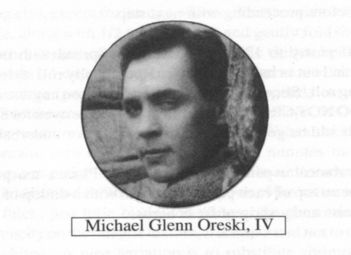 Biography:
File:PGN Article, June 4-10 1993, Part 1.pdf
File:PGN Article, June 4-10 1993, Part 2.pdf
Michael Oreski was a chef in several restaurants, including Cafe Laffite, Warsaw Cafe, Equus, Uncles, Holly Moore's, the Commissary, Backstage and Overtures. He also worked periodically as a private chef on the Main Line and in Maine.

Michael's interest in cooking began as a youngster. His mother and stepfather had owned a restaurant. He grew up in Skippack and King of Prussia. After graduating from high school he began working at the Fruit Lady and later in restaurants.

He enjoyed all kinds of music, from Gregorian chants to Phantom of the Opera. His favorite actresses were Colleen Dewhurst and Candace Bergen. He was 36 when he died and was living in Merchantville, NJ.

from the Philadelphia Stories: A Dining Out for Life Cookbook, 1993
Date of Birth: 1957
Date of Death: 1993
Age at Death: 36

Employment:

Social/Political Groups he attends/attended:

Bars/Clubs he attends/attended:

His friends include: (type your name here, or names of others)

Testimonials to him (add a space before a new testimonial):