McClernon, Matt
NAME: Matt McClernon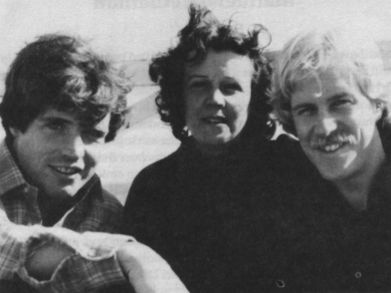 Matt McClernon, Nancy Powell and Joe Quinn
Source: Ralph Cipriano, Inquirer Staff Writer Matthew R. McClernon Jr., a restaurant owner who made his patrons feel comfortable and his friends feel loved, died Sunday of AIDS at his home in Center City. He was 36.
When Mr. McClernon remodeled a former pizzeria in the 1700 block of South Street three years ago, he wanted to create a down-home type of restaurant that would make people feel at ease.
He lined the walls with banquettes that he built himself and covered with pale pink and green tapestries. He hung family photographsPublished on 1990-06-21, Page D11, Philadelphia Inquirer, The (PA)

Proprietor of Mom's Restaurant, 1713 South Street. Partners with Joe Quinn.
February 23, 2007|By Anndee Hochman FOR THE INQUIRER
http://articles.philly.com/2007-02-23/living/25238208_1_bengal-tiger-boxes-happy-memories/3
1x1px(Page 3 of 4)
For Joe Quinn, it took years to stop saying "our house." The snug 1880s rowhouse near 26th and Lombard Streets, bought with his partner Matt McClernon in 1981, was filled with reminders of their shared life: the special-occasion gold-trimmed Noritake dishes, the Olympus camera McClernon used to capture architectural details, and the blue-gray shirt that looked smashing with his eyes.
McClernon, 36 when he died of AIDS in 1990, wasn't a devoted diary-keeper, but in the last several months of his life, he filled several notebooks, confiding his fears about his illness.
"I'd read them over and over, because it was almost like talking to him," Quinn says.
Now a nurse and research coordinator at the University of Pennsylvania School of Medicine, Quinn eventually gave McClernon's Cole Haan shoes to his brother; he retired the dishes after breakages left him with service for just four. He framed and hung some of McClernon's photographs. And from time to time, he wears the blue-gray shirt, its cuffs limp and collar frayed to threads.

Date of Birth:
Date of Death: 6/17/1990
Age at Death: 36
Employment:

Social/Political Groups he attends/attended:

Bars/Clubs he attends/attended:

His friends include: (type your name here, or names of others)

Testimonials to him (add a space before a new testimonial):