Mathews, John Barry
NAME: John Barry Mathews
Biography: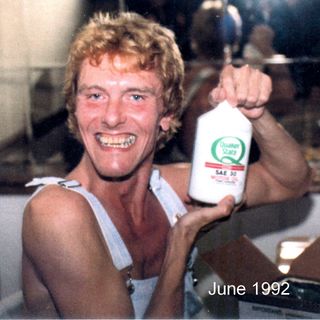 A.K.A. J. Barrington Floss

I had known Barry since First Grade. Or so I've been told. I don't remember him till much later – say, Second Grade.
One day a few years after that, my father, an RCA electrical engineer, brought home a professional Magnecorder tape recorder, an RCA 77-DX microphone (same as was used on The Tonight Show), and a box of reel-to-reel tapes. On afternoons following grade school, Barry would stop by my house –a mere three blocks from his – and we would improvise hilarious (to us) sketches and record them. He was always much funnier than me, but I had ultimate control of the On/Off switch. In High School, we evolved into a loosely structured band called Albatross – his name, of course – whose best song was "There's a Bowling Ball in my Soup," words and music by JBM (Jr.). Other songs – such as Come as You Are Party, When You Sat Down on my Hat, I'm in Love with my Can of Raid, Vital Vegetable – typically featured his words and my music, though a McCartney-Lennon team we would never be.
After we went our post-High School separate ways, we continued to correspond, assuming new and wilder personas. While I was usually the Marvin Hodge Book Club or Leisure WeaselWorld, Barry became Bertholde R. Forknagle; Hiram Sockwater Home Correspondence Daycare Center of Arts, Science and Taxidermy; Plortcie-Neilson Wholesaling Corporation; Crustwick, Hairlip and Wilt (Purveyors of Fine Rat Products); Warton T. Underhog; Sydney R. Weltbuilder School of Bodybuilding and Papier-Mâché; and most notably Plodney & Crutch (or, legally, Plodney, Crutch, Crudney, Protz, Plotz, Crodley, Crud, Lipshitz, Horowitz and Nurn, in Association with Stegmeister, Borkfelter, Blankenfarkle and Douche ... until further notice). The exchanges were often supremely clever and took us intermittently from the 1970s through the 1980s.

Still later, with the impetus of Barbara, we turned the end of year tradition of exchanging gifts into Mousemas, and then Junkmas. The exchanged items had to be odd and they had to be inventively wrapped. I still have his sculpture (I think it's a sculpture) of a hundred glued-together ping pong balls and a large bag of plastic kazoos. Most of the oddities I gave in trade wound up in his Shrine Room, a place of honor! Often, the wrapped package would be returned the next year with more layers of covering (see picture below).
As the years continued to pass, our Vermont-New Jersey communications slowed. But whenever I'd show up at his door, we'd usually resume the conversation we didn't quite finish the last time we parted. I'm sad to say that that conversation has most likely now ended – though with Barry, you just never know.

David Gunn, Barre, Vermont
December 13, 2012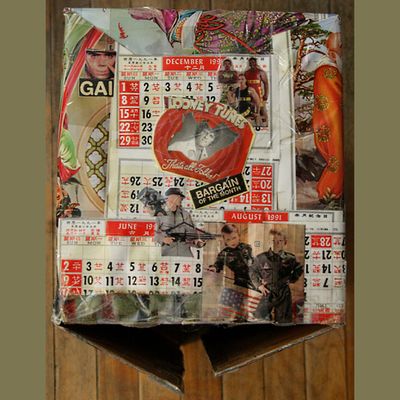 Picture: (Insert picture if available)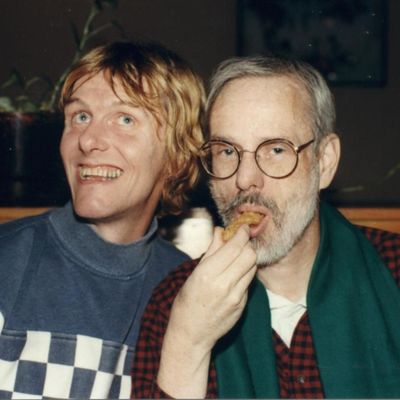 Date of Birth: January 17, 1947
Date of Death (delete if non-applicable): November 9, 2012
Age at Death (delete if non-applicable): 65
Employment: Computer programmer

Social/Political Groups he attends/attended:

Bars/Clubs he attends/attended:

His friends include: (type your name here, or names of others) Craig Littlewood (pictured with Barry above), Barbara Hanselman, Ron Hanselman, David Gunn, Craig Maue, Bob Kamilli, David Hildreth, Phyllis Van Osten, Helene Haller, Alison Krieger, Lydia Krieger, David Krieger, Ken Fox, Jayne Conine Murphy, Laura Senft, Susan Whitehair, Alan Hubbs, Jimmy Stow, Jonathan Stow, Tom Foster.

Testimonials to him (add a space before a new testimonial):
On Friday the 9th of November 2012, I lost my long time friend who was HIV positive, J Barry Mathews, to lung cancer. Barry and I went back to the 60's where we met in high school as part of a faction of nonconformists who came to be known as "The Group" long before a movie by the same name came on the scene. I remember Rosabella Semple, my art teacher back then, telling my mother years later that our Group gave her four memorable years of teaching at Palmyra High. All of us, whether we were in her art classes or not, impacted the high school with our insight, creativity, humor and antics.
Barry and David Gunn actually knew each other from kindergarten while the rest of us (David Hildreth, Alan Neal Hubbs, Craig Littlewood, Bob Kamilli, Helene Haller, Phyllis Van Osten, Jayne Conine, Laura Senft and I) rounded out the 'collection' in high school during the early 1960's. It was Alan who proclaimed back then, "There's one in every group and we're all of them."
After high school, we went our separate ways, keeping in touch during the college years but less so as the years went on. I remember connecting again with a somewhat depressed Barry in the late 70's and as we caught up on things, I mentioned how poor the selection of appropriate greeting cards was on the market and how I would love to design my own line of cards to help correct the oversight. The next day Barry called and asked how much money I would need to start the process. Within the week, EPEE Products was born. Ignorant but determined, Barry and I joined the ranks of other independent card companies out to give Hallmark a run for their money. We embraced this joint venture and it became a beneficial, life altering experience for us both, lasting well into the late 1980's.
During this period, we also re-connected with other Group members, having gatherings at local Chinese restaurants, my home or Barry's newly acquired condo. Barry, Gunni and I began celebrating "Mousemas" (instead of Christmas) and the way the seasonal gifts were enshrined within past years of collaged wrappings became more important than what was actually inside.
Then the early 1990's brought the loss of three Group members – Phyllis, Craig and Jayne – making our times together even more significant.
Alan Hubbs passed in 2011 while in Los Angeles working with Ray Bradbury and we were thankful he had come back to New Jersey six months prior for a get-together.
On Sunday May 13th, 2012 David Gunn (Gunni) & Laurel came down from Vermont so I joined them in a visit to the reclusive Barry. Barry had stopped smoking and had all his new dental implants to show off as well as a freshly re-decorated condo. Now another six months have passed and so has my good friend, Barry.
Barbara Hanselman, November 2012