Gallagher, Stephen
NAME: Stephen Gallagher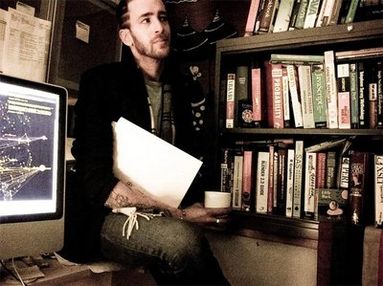 Biography:

PGN Obituary by Jen Colletta:

University of Pennsylvania genetic analyst Stephen Gallagher, an active member of the local LGBT community, died May 27 of acute heart failure. He was 31.

Gallagher worked as a senior programmer in the department of biostatistics and epidemiology in the Center for Genetics and Complex Traits at the Penn Medical Center.

A native of Wilmington, Del., Gallagher grew up in Ephrata and moved to Philadelphia about 10 years ago.

He worked at Penn since 2003 in a position that allowed him to utilize computer science to study the genetics of cancer.

"He has always been fascinated with science and understanding and learning," said his brother, Michael Gallagher. "When Steve was 13, he wrote a textbook called 'Algebra Made Easy for Eighth-Graders.' He was always drawn to the challenge of finding potential solutions for life's problems, and he wanted to be a part of those solutions."

Michael noted that his brother didn't graduate from college but taught himself the complex topics he studied in his career, publishing numerous scholarly works in top cancer journals.

"When he was 16, he was teaching professors at Millersville University quantum and chaos theory that he taught himself," he said. "He created opportunities for himself to apply his creativity and passion and intellect to make a difference."

That intellect stayed with him outside of the working environment, as he could often be seen reading books on cancer therapies during leisure time at the park or at bars.

"He was the type of person who could simultaneously read five books and keep up a conversation," joked friend Rico Konrad.

His sketchbook also frequently accompanied him on his nights out, as he would relax at a bar and put pencil to paper to capture his surroundings.

Konrad said sketching was another of Gallagher's many self-taught skills.

"He never sketched before, and one of his friends said why don't you start, so he just started and then didn't stop until the cows came home," he said. "At the end when he passed, he had hundreds of sketches."

Michael Gallagher said that when his brother was just 6 or 7, he taught himself how to fly-fish, a hobby he perfected over the years.

He was a sports enthusiast, trying his hand at everything from bowling to swimming to golf, and was a member of the City of Brotherly Love Softball League.

Gallagher's friend Giovanni Buscetta said he was also talented at the billiards table, joking he was somewhat of a "poolshark."

Buscetta said Gallagher's character strengths were just as vast as his interests.

"He was a very sweet and endearing person and very honest. He was friendly and would talk to just about anyone. And he was a forgiving person and was very patient, a good teacher."

Gallagher said the lessons his brother taught those in his life are invaluable.

"He died from complications of an enlarged heart, and that's really ironic because that's how he lived. Everything was enlarged — he had an enlarged sense of love, an enlarged spirit, an enlarged heart that he shared with everyone."

Stephen Gallagher was in hospice care before his death, and Konrad said he maintained his positive attitude until the end.

"The day he passed, he had some energy in the morning and sat up and we all expected this big speech and he just said, 'Happy Thursday, everybody.' And it was actually Friday and we told him, and he just said, 'OK, that's fine,' and laid back down. He was so full of energy and just lived this different reality from the rest of us. If something didn't fit into his framework, he just adjusted the framework. Nothing could stop him."

One of Gallagher's favorite quotes that he shared on his Facebook page came from Mark Twain and exemplified how he sought to live: "Life is short. Break the rules. Forgive quickly. Kiss slowly. Love truly. Laugh uncontrollably. And never regret anything that makes you smile."

Despite all of his attributes, Gallagher was known for his frequent encounters with the Philadelphia Parking Authority; at his service last week, guests all received a copy of a parking ticket as a humorous tribute to his penchant for collecting PPA violations.

His brother Michael noted that, even after his passing, his car has continued to acquire tickets.

In addition to Michael, Gallagher is survived by parents Michael and Joann, sisters Theresa and Kelly, grandparents Guido and Freda, a large circle of friends and his dogs Frejya, Penelope and Hagl.

Services were held June 3, and Gallagher was buried at Cedar Hill Cemetery in Ephrata.

Memorial contributions can be made in Gallagher's name to the William Way LGBT Community Center, 1315 Spruce St.
Read more: [Philadelphia Gay News. Phila gay news. philly news - Obituary Stephen Gallagher genetic analyst 31]

Date of Birth:
Date of Death: May 27, 2011
Age at Death: 31
Employment:

Social/Political Groups he attends/attended:

Bars/Clubs he attends/attended:

His friends include: (type your name here, or names of others)

Testimonials to him (add a space before a new testimonial):