Eberlin, Harry
NAME: Harry Eberlin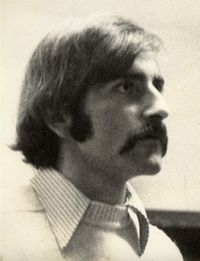 Biography: A very important photographer of the LGBT movement in Philadephia. Many of his photographs reside in the Eberlin collection at the LGBT archives in the William Way Community Center in Philadelphia. Harry was PGN's first photographer.

Obituary
by Larry Nichols from PGN Jan. 12-18, 2007

Harry Raymond Eberlin, local photographer and gay activist, died December 14 of lung cancer. He was 69.

Eberlin grew up an only child in Kensington with his mother Eugena, who worked and raised him by herself. He attended school in Philadelphia and came out when he was only 12.

Eberlin documented a lot of the early gay demonstrations in Philadelphia prior to the 1969 Stonewall demonstrations, — before it was "fashionable" to demonstrate. He was PGN's first photographer, working at the paper from 1976 to 1982.

At that time, he could be found taking pictures at bar openings, New Year's Eve parties, "zaps" and other political and social gatherings.

Eberlin also took artistic photographs and shot and developed portfolios for models.

Although he spent most of his life self-employed and freelancing, Eberlin worked for General Electric in his early years as a technician and for the Bellveu-Stratford Hotel at Broad and Walnut Streets (now the Park Hyatt Philadelphia) as a maintenance man before it was closed due to an outbreak of Legionnaire's disease. Later in life, Eberlin lived with and cared for his ailing parents—his father had returned—in their Kensington home until they passed away.

Eberlin was friends with early Philadelphia gay activists sich as Barbara Gittings, Kay Tobin Lahusen, PGN publisher Mark Segal, and Harry Langhorne and active in the gay community from the beginning. He was a treasurer for the Gay Activists Alliance.

Lahusen remembers Eberlin as having attended at many gay activist events in the early days of the movement and being very generous with his time, offering to help her and her longtime partner Barbara Gittings with home repair and gardening tips.
"He taught us a lot about home ownership and about gardening," she said, adding he knew a lot about flowers and always went to the Philadelphia Flower Show.

Eberlin is survived by his devoted partner of 30 years, Richard DeMatt, a former restaurant owner.

DeMatt remembers Eberlin as a tinkerer and handyman, who enjoyed taking electronics apart and rebuilding them. DeMatt seaid Eberlin wasn't concerned with pursuing a career and wasn't very interested in material possessions or fashion.

Eberlin was known to fix ham radios, VCRs and television sets and was also an amateur radio operator.

In addition to being a gardener and handyman, Eberlin also loved classical music. He and DeMatt also enjoyed taking short trips to the shore; their favorite destinations included Cape May and Atlantic City.

Eberlin moved in with DeMatt shortly after his parents died, but still kept his family home. The ocuple lived together for 10 years, during the latter of which Eberlin began to struggle with health issues. He spent the last two years of his life in a nursing home battling emphysema.

Eberlin was cremated; DeMatt plans to keep his ashes so they can be buried together.

Eberlin will be remembered at a lunch on Jan. 27. Memorial contributions for Eberlin can be made to the Attic Youth Center 255 S. 16th St. Philadelphia PA 19102.
Date of Birth: 10/14/1937
Date of Death: December 14, 2006
Age at Death: 69
Employment:

Social/Political Groups he attends/attended:

Bars/Clubs he attends/attended:

His friends include: (type your name here, or names of others)

Testimonials to him (add a space before a new testimonial):