Damon, Bill
NAME: BILL DAMON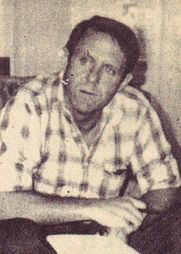 Biography:

Bill's obituary from PGN:
Local gay activist and freelance writer Bill Damon died on Friday, March 22 at his mother's home in Wallingford in Delaware County, Pennsylvania. He was 41.

Damon was buried March 26 at Chester Rural Cemetery in Chester, Pennsylvania. Born in Wallingford, Damon lived in various cities, including Philadelphia, Provincetown and Key West. He went to school in Philadelphia.

Damon was active in both the local and the national gay movement for many years. His local involvements included the Janus Society, a Philadelphia gay group in the 1960's, among others.

According to his executor, Damon's family has asked that donations be sent in his name to the Hospice of the University of Pennsylvania, 3400 Spruce St., or the Delaware County Hospice Society in Chester.
Date of Birth: 1944
Date of Death: March 22, 1985
Age at Death: 41
Employment:

Social/Political Groups he attends/attended:

Bars/Clubs he attends/attended:

His friends include: (type your name here, or names of others)

Testimonials to him (add a space before a new testimonial):