Broadley, Rodger, Rev'd *
NAME: Reverend Rodger Broadley*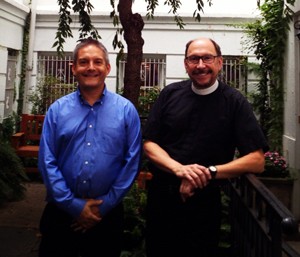 Biography:
Rodger has been the Rector at St. Luke and the Epiphany since 1984, and prior to that was the assistant rector. He buried over 150 individuals who died from AIDS, and continues to minister to many gay men living with HIV in Philadelphia.

The Rev Rodger C Broadley has been the rector (pastor) of the congregation since the early 1980s. Graduating with a Masters of Divinity from the Episcopal Divinity School in Cambridge, MA, he was ordained in 1978. After several years in a large suburban congregation he came to St Luke and The Epiphany as the assistant. Under his leadership the church has gone through major transformations including the early gentrification of the neighborhood, the AIDS crisis, an increasing need for community space beyond Sunday worship, and the current growth of both the student population and suburbanites returning to the city.
Rodger is active at The Episcopal Church's national level, serving for the past fifteen years as a clergy representative to the National Convention. In the Diocese of Pennsylvania he chairs the Commission on Ministry and recently completed ten years as a board member and officer of both Episcopal Community Services and the residential hospice, Calcutta House.
Rapid changes in Center City are creating new energies and new challenges. Rodger says that he's never bored. "Helping a dynamic faith community emerge and grow is phenomenally fascinating, encouraging, and hard."

Picture: (Insert picture if available)
Date of Birth:

Employment: Rector, St. Luke and The Epiphany

Social/Political Groups he attends/attended:

Bars/Clubs he attends/attended:

His friends include: (type your name here, or names of others)

Testimonials to him (add a space before a new testimonial):