Black, Steve
NAME: Steve Black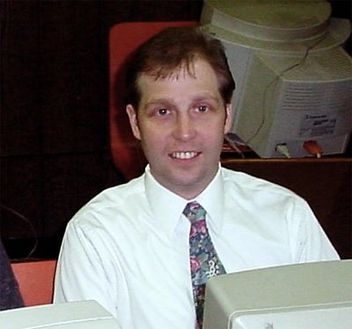 Biography:

PGN Obituary by Jen Colletta

Steve Black, a longtime activist and co-founder of a regional LGBT-rights group, died Jan. 13. He was 44. The cause of death had not been released at press time.

Black, a native and resident of Pen Argyl, helped found and run the Pennsylvania Gay and Lesbian Alliance for 10 years and was influential in passing measures such as the statewide LGBT-inclusive hate-crimes law.

Black graduated from Pen Argyl High School in 1984 and Penn State University four years later. He attained his law degree from Temple University in 1992 and lived for a time on Camac Street in Philadelphia's Gayborhood, working at haute Asian restaurant Susanna Foo's.

Liz Bradbury, executive director of the Pennsylvania Diversity Network, met Black in the mid-'90s at the first Lehigh Valley Pride festival. At the time, he was vice chair of the Pittsburgh-based League of Gay and Lesbian Voters, focusing on creating voter guides for LGBT constituents, and recruited Bradbury and her partner Patricia Sullivan as volunteers.

In 1998, the trio branched off and created their own LGBT-rights agency, PA-GALA, for which Black served as political director.

He developed the agency's voter guide, which provided residents in the 12-county region a detailed description of the positions of political hopefuls.

"He came up with a plan to send really comprehensive voter information that rated candidates and endorsed candidates and really told voters why they were good for the community," Bradbury said. "And it was done in a way that provided information about candidates based on the districts where people lived, so it was very specific. It was an incredible amount of information that he created that was extremely effective."

Overseeing the mailing list for the group's 1,000 members was no easy feat, Bradbury noted, and required a lot of organization.

For a time, Black commuted to Pen Argyl to work in his family's diner, Black's Luncheonette, and later moved back to his hometown. Even at work, he would be developing PA-GALA.

"He kept his computers at the restaurant and he'd be taking orders, cooking burgers and in between all of that he'd be maintaining and working on the mailing list," Bradbury said. "He'd drop the food off and then go back and be updating names and keeping track of donations."

Black got his first taste of politics when he was elected to the Pen Argyl School District at age 20 and later the Democratic State Committee. In 2000, he served as an elected delegate to the Democratic National Convention in Los Angeles — his first plane trip — which he paid for himself.

Retired political consultant Rob Hopkins worked with Black through PA-GALA, the League of Gay and Lesbian Voters and the Statewide Pennsylvania Rights Coalition and said Black exhibited an unmatched commitment to LGBT activism.

"I've never met anyone in the last 20 years of political activism who's been more dedicated and more devoted to the issues than Steve," he said. "Considering how much volunteer time he put in, it's just incredible. He was a good friend and a trusted asset to this community. With the impact he had, I'm sure his momentum will continue."

Black was instrumental in crafting the language included in the expansion of the state's hate-crimes law to cover sexual orientation and gender identity in 2002. Bradbury said that Black was "devastated" when a court overturned the law on a technicality in 2006.

Patience, however, was one of his strong points.

Bradbury said Black recognized that the legislative process could be a lengthy one and took pleasure in the small victories the LGBT community achieved. When the Allentown City Council failed to pass an LGBT nondiscrimination ordinance in 1998, Bradbury said Black rejoiced in the number of pro-LGBT witnesses who testified at a council hearing.

"He said to me, 'Politics and political change move like a dinosaur. It's slow and you can't expect everything to change just because we're working on it,'" she said.

Allentown and later Easton did pass such measures, which Bradbury attributed largely to the voter information Black disseminated among the LGBT communities in those areas.

Black's advocacy efforts garnered him national attention with his inclusion among Out Magazine's Out 100 in 2002.

Bradbury and Sullivan left PA-GALA in 2005 and Black continued to operate it until 2008.

This past summer, he resigned his post as Pen Argyl tax collector, which he was elected to in 2005, after being arrested for driving under the influence. In October, he was indicted on embezzlement charges and a few weeks later again arrested for DUI.

Bradbury said Black had long struggled with depression and attempted suicide this past fall.

This week, the Allentown City Council is expected to adopt a domestic-partner law, which Black started pressing for 20 years ago and which Bradbury said would be a fitting tribute to the activist.

"This will be his lasting legacy. It's his work that he did for so many years that helped to make this happen," Bradbury said.

Black is survived by mother Patricia Rissmiller, stepfather John Rissmiller, father William Black, brothers William and Thomas Black, stepsister Leslie Ann Behler and several nephews, aunts and uncles, cousins and friends.

A memorial service will be held from 6-8 p.m. Jan. 24 at the Guerro & Ruggiero Funeral Home, 126 E. Pennsylvania Ave. in Pen Argyl, with a private interment.

Donations can be made in Black's name to the Pen Argyl Green and White Youth Association, P.O. Box 132, Pen Argyl, PA 18072.
Date of Birth: 1967
Date of Death: January 13, 2011
Age at Death: 44
Employment:

Social/Political Groups he attends/attended:

Bars/Clubs he attends/attended:

His friends include: (type your name here, or names of others)

Testimonials to him (add a space before a new testimonial):