Bell, John
NAME: John Bell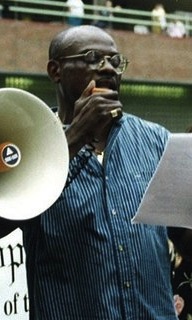 Biography:

From the 2012 PGN Obituary by Jenn Colletta:
JOHN BELL
John Bell, who spearheaded HIV-education programs for local prison populations, died Sept. 12. He was 64.

Bell was a co-creator of Philadelphia FIGHT's TEACH Outside initiative, a resource for HIV-positive people reintegrating into society from the prison system.

He was also a longtime activist with the local chapter of ACT UP.

Bell was a native of Baltimore and served in the Vietnam War from 1968-70.

He moved back to Baltimore and worked as the only African-American foreman at the Amtrak station in Washington, D.C.

After a struggle with drugs, he was diagnosed with HIV in 1989.

Gloria Prusakowski, his partner of 12 years with whom he most recently lived in West Philadelphia, said he boarded a bus in 1995, determined to change his life path.

"He came to Philly to get clean," she said. "He met a woman who said that she knew of a place that could help him stop using, and he came right to Philly and started his recovery. It stuck and, because of that, he wanted to help other people."

He said in an interview with Philadelphia Weekly that when he arrived in the city, he went through a "spiritual experience" in which he "found out it was OK to be who I was and what I was, which was something that had eluded me all my life."

Once he got on his feet, he became an active ACT UP participant, and his natural leadership abilities caught the attention of Philadelphia FIGHT.

FIGHT executive director Jane Shull said her agency recruited him to help spearhead its new prison initiative alongside Laura McTighe.

"Aside from his brilliance and his knowledge, it was critical that we had one co-leader who was an ex-offender — and John was — and it was obvious to us how much talent he had," Shull said. "By his own example, he showed that people could overcome an unbelievable amount."

With TEACH Outside, Bell facilitated countless classes for ex-offenders that showed them how to navigate an HIV diagnosis.

"He had an incredible ability to get people's attention and to keep it," Shull said. "He knew the students really well. If I or someone else came in as a guest to talk, he'd stand in the back of the room and ask a really pointed question if something hadn't been clear. He was a teacher of everyone."

By the end of the program, Bell would encourage the participants to find the confidence to take the front of the room.

"Everyone would get up and talk about what the class meant to them. And when there were people who hadn't spoken, he'd just look at them, and then they'd go and get up," Shull said. "He helped them unlock their own minds and find their own voice and ability to speak. He made sure everyone was really a part of the class, and not just a passive observer."

He also led TEACH In/TEACH Out, an education program geared toward at-risk populations currently incarcerated, and Shull said he served as a mentor to countless people during and after their time in the prison system.

In 2001, FIGHT named him one of the community's "Ten Most Effective" at its 10th anniversary gala.

Prusakowski said Bell was a natural people person, which made him such a successful advocate and activist.

"He loved people," she said. "He wanted to help people, no matter what level they are on. He would go into the jails and work with people who were newly diagnosed and show them that it was OK and that they could be positive and still lead a good life. Once they came out of jail, he would always make sure they had somewhere to go and bring them into TEACH. He was warm, nurturing, generous to fault and just cared about people."

Activist Waheedah Shabazz-El said she owes her life to Bell.

She met him shortly after her own diagnosis while in prison in 2003.

"He came to meet with me and I thought he was an attorney at first and he started talking about HIV," she said. "He was the first person with AIDS I met after my own diagnosis. He told me he'd been living with it for 20 years and he gave me the hope that I needed. He gave me the hope to hold on until I was released."

Once she was released, Shabazz-El sought out Bell and began working at FIGHT and in the HIV/AIDS activism community.

"There would be no Waheedah without him," she said.

Shabazz-El said one of Bell's favorite films was "Voices from the Front," a documentary about the activism that sprung up after the start of the HIV epidemic, and he often opened up his house for viewing parties of the movie.

Bell coined a quote that friends say embodied his spirit: "Half of your rights haven't been written yet, because you haven't been here to demand them."

"He always gave people a charge, a call to action," Shabazz-El said. "He wanted people to get involved. In this epidemic, every right that we have or every service that we have, we have had to fight for it. And John was so driven to see that happen."

A memorial service will be held 5:30 p.m. Oct. 5 at William Way LGBT Community Center, 1315 Spruce St.

Donations can be made in Bell's name to ACT UP Philadelphia at www.actupphilly.orgor by sending a check payable to ACT UP Philadelphia to P.O. Box 22439, Philadelphia, PA 19110.)
Date of Birth: 1948
Date of Death: September 12, 2012
Age at Death: 64
Employment:

Social/Political Groups he attends/attended:

Bars/Clubs he attends/attended:

His friends include: (type your name here, or names of others)

Testimonials to him (add a space before a new testimonial):