Avicolli Mecca, Tommi*
NAME: Tommi Avicolli Mecca*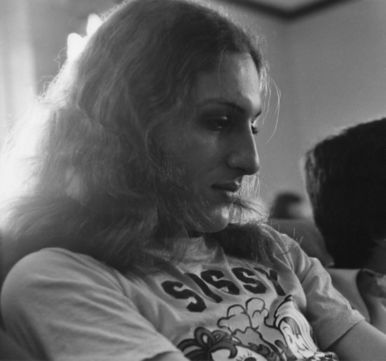 Biography:
Tommi Avicolli Mecca is a longtime southern Italian radical queer activist who helped organize the first gay pride march in Philadelphia in 1972. He was co-founder of Radicalqueens and helped produce its magazine, and a member of Gay Liberation Front/Temple until its demise in 1974. He served as president of Gay Activists Alliance (1975), Associate Editor of New Gay Life magazine (1976-9), and reporter/editor for the Philadelphia Gay News (1981-91). He founded the Philadelphia Gay and Lesbian Archives (now part of the library at the William Way Center in Philly), and the first multi-racial LGBT theatre troupe, Avalanche (1986-1991). He was also a founder of GALA, the Gay and Lesbian Arts Festival. He was on the board of the first LGBT community center and helped organize its weekly Gay Coffeehouse.

He is a poet, performer, activist and writer. As a journalist, he has contributed to //Philadelphia Magazine//, [Bay Guardian//], //Bay Times//, [] Philadelphia Gay News, SF Examiner, Distant Drummer, and others. In 1978 he wrote and produced the first gay play ("Judgement of the Roaches") presented in Philadelphia; in 1986 the libretto for the first dance/spoken word piece on AIDS. He also did a sold-out one-man show at the Walnut Street Theatre's Studio Five which was called "Giving Voice." It dealt with growing up queer in South Philly's Italian/American neighborhood. Altogether he has produced about a dozens theatre works, including "la madonna nera" (black madonna) and "Italian.Queer.Dangerous."

He has continued to fight the good fight since moving to San Francisco, where he is now a prominent tenants rights and queer activist. He was an organizer of three shelters for homeless queer youth in the Castro in the late 90s, a weekly food program and a shower project. He was one of the founders of the Tom Ammiano write-in campaign that made international news when Ammiano, a gay man, made it into a runoff against incumbent mayor Willie Brown in three weeks' time. He helped mobilize campaigns to save rent control, to defeat a statewide anti-immigrant measure, to save affirmative action, to create district elections, to elect progressives to the Board of Supervisors. He was also involved in organizing against racism at a Castro bar called Badlands. He is an organizer of the annual "Dumping Columbus" event that features Italian American authors speaking out against the legacy of Columbus.

Tommi's poetry has been published in a wide variety of journals including Northwest Magazine, Philadelphia Poets, and the book, Gay & Lesbian Poetry in Our Time//. His articles have appeared in some 30 anthologies, including //That's Revolting, Lavender Culture, Out in the Castro, I Do I Don't, Men Freeing Men, Queer View Mirror, Orgasms of Light, Reconstructing Gender, Quickies, Sweet Lemons, The Whole World is Watching, etc.// He is author of //Between Little Rock and a Hard Place// and co-editor of //Hey Paesan!: Writing by Lesbians and Gay Men of Italian Descent// and //Avanti Popolo: Italian Writers Sail Beyond Columbus.// He is the editor of //Smash the Church, Smash the State: the early years of gay liberation,// an anthology of writings (City Lights Press, 2009) about the post-Stonewall gay liberation movement. He writes regularly for the online newspaper, beyondchron.org. His website is: www.avicollimecca.com.
Date of Birth:

Employment:

Social/Political Groups he attends/attended:

Bars/Clubs he attends/attended:

His friends include: (type your name here, or names of others)

Testimonials to him (add a space before a new testimonial):