Apfelschnitt, Carl
NAME: Carl Apfelschnitt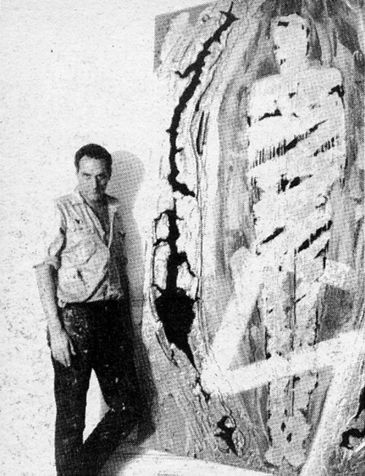 Biography

[CARL APFELSCHNITT, ABSTRACT PAINTER WHO EXHIBITED IN U.S. AND EUROPE]
Carl Apfelschnitt, 42, an abstract painter whose work was exhibited throughout Europe and America, died of complications from AIDS on Thursday at Chandler Hall Hospice in Newtown, Bucks County. He lived in New York City and Madrid, N.M. Born in Philadelphia, Mr. Apfelschnitt grew up in Springfield, Montgomery County. He graduated from Springfield High School and the Philadelphia College of Art. In 1980, Mr. Apfelschnitt had his first individual exhibition in New York City, at thePublished on 1990-06-02, Page D08, Philadelphia Inquirer, The (PA)
Carl Apfelschnitt, a painter, died of AIDS yesterday at the Chandler Hall Hospice in Newtown, Pa. He was 42 years old and had homes in New York City and Madrid, N.M.

Mr. Apfelschnitt, who was born in 1948 in Philadelphia, attended the Philadelphia College of Art and had his first individual exhibition in New York City at the Tony Shafrazi Gallery in 1980. He was best known for abstract paintings with a strong physical presence, whose thick, poured surfaces were often marked by cracks and craters.

His work, which was exhibited in both Europe and the United States, is in the collections of the Museum of Modern Art in New York City and the Lannan Foundation in Los Angeles. The Anne Plumb Gallery in SoHo had a retrospective exhibition of his work that closed on April 14.

He is survived by his parents, Marvin and Suzanne Apple, of Wyncote, Pa., and two sisters, Amy Cutler, of Bryn Mawr, Pa., and Jane Pitkow, of Elkins Park, Pa.

[interview with Carl Apfelschnitt]
Carl Apfelschnitt : New York artist with ties to Provincetown, from Paul Trainer collection: `Untitled` c.1985, mixed media, 30 x 24: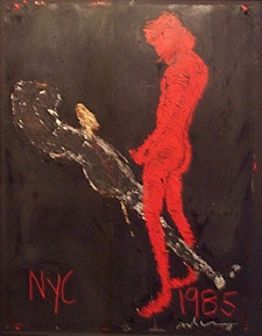 [etchings for William Burrough's book.]
Date of Birth: 1948
Date of Death: 5/31/1990
Age at Death: 42

Employment:

Social/Political Groups he attends/attended:

Bars/Clubs he attends/attended:

His friends include: (type your name here, or names of others)

Testimonials to him (add a space before a new testimonial):