Angell, Don
NAME: Don Angell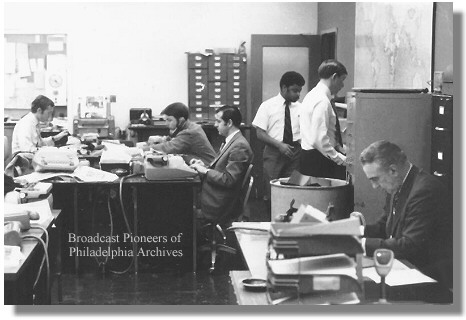 Biography: Don Angell worked in the WCAU newsroom. His death from AIDS is reported [this page:]

July 25, 1986
By GLORIA CAMPISI and ANN GERHART, Daily News Staff Writers

DONALD ANGELL JR.
Donald K. Angell Jr., a former Philadelphia radio and television reporter who went to work for the Rizzo administration in 1971 and supervised a massive expansion of International Airport, died Tuesday in Miami. He was 46.
Angell, whose dark good looks were known to viewers of WFIL-TV and WCAU-TV in the 1960s, had been under treatment for cancer and had suffered a heart attack.

At his death, he was director of properties for Pan American Airlines. Before that, he had been vice president of Air Florida and an executive with Continental Airlines.
As Philadelphia's director of aviation in the 1970s, Angell supervised the $174 million project that helped bring the city's airport into the modern age.
He was one of a number of news people hired by Frank Rizzo when Rizzo was elected mayor in 1971. Angell first worked as a deputy to former city representative Harry Belinger, and in 1976, was named manager of the airport.
In 1979, he became the city's director of aviation. He left the city administration in 1980 to work for Continental in Florida.
A native Philadelphian, Angell earned bachelor's and master's degrees in communications from the University of Pennsylvania. He worked for Penn's radio station and spent summers working for WCAU-AM radio.
After graduation, WCAU put him on full-time as a reporter. He later switched to WFIL-TV, anchoring the weekend news in 1965.
He returned to WCAU and went on Channel 10 doing reporting, working on the assignment desk and anchoring weekend news before Rizzo hired him.
A popular bachelor, Angell had a home on a Caribbean island near Puerto Rico. In 1972, he happened to be on the scene when a policeman named Joseph Johnson, a father of three, was pulled out of the Schuylkill River after a police boat capsized.
Angell offered the shaken officer and his wife a week at his island hideaway to recover. The officer accepted.
Angell's late father was a vice president of Penn. He is surived by his stepmother, Madelon Angell; a sister, Margaret Griffith; and a brother, Stephen S.
He had requested that no funeral services be held.
Date of Birth: 11/14/1939
Date of Death: 7/22/1986
Age at Death: 46
Employment:

Social/Political Groups he attends/attended:

Bars/Clubs he attends/attended:

His friends include: (type your name here, or names of others)

Testimonials to him (add a space before a new testimonial):