Acosta, David*
NAME: David Acosta*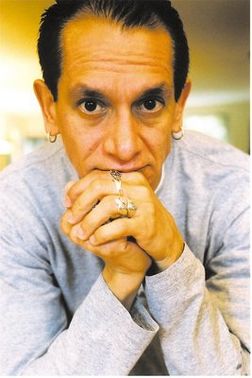 Biography:

From the Casa de Duende website:
David Acosta (Also known as Juan Armando David Acosta Posada) is a writer poet, cultural worker and co-founder of Casa de Duende, along with his life partner Jerry Macdonald.

He has served on a wide range of committees and boards, including past work with the Philadelphia International Film Festival, The Philadelphia Gay and Lesbian Film Festival, The PA Council on the Arts, as well as a founding member of Our Living Legacy (1988), the nation's first festival devoted to art and AIDS. In 1993 he served on the East Market Street Sculpture Review Committee, which selected artist Raymond Sandoval's Tanamend sculpture from among more than 3,000 artist proposals. He was a founding member of The Latin American Writers Collective, Desde Este Lado, as well as the magazine that bore its name. He was also a co-founder of the Philadelphia Working Fund for Artists with HIV/AIDS. In 1989 he curated the Pieces of Life Project at Taller Puertorriqueño which brought the National Names Project (Originators of the AIDS Quilt Project) to Philadelphia, and specifically to a Latino community in a large metropolitan city, at that time a first for the Names Project.

He has been involved in many boards including Taller Puertorriqueño, The Asian Arts Initiative, Spiral Q Puppet Theater, the Bread & Roses Community Fund, The AIDS Law Project, The Philadelphia AIDS Walk, The Legacy Fund, The Center for Lesbian, Gay Law and Public Policy, and served as an advisor to the American Friends Services Committee Latin American and Caribbean Desk among many others. He was also the first Latino appointed to the Philadelphia Mayor's Commission on Sexual Minorities form 1985-1989.

David Acosta is a founding member of the National Campaign for Freedom of Expression (NCFE) and of the Art Emergency Coalition (AEC). Both organizations were instrumental in their opposition to the culture wars of the 90s. NCFE went on to successfully sue the National Endowment for the ARTS on behalf of the NEA Four.

In 2007 he was one of 30 Philadelphia activists honored by Bread and Roses during their 30 year anniversary celebration for having broken new ground in building paths to social justice.

In 2008 he was awarded the Red Ribbon Award for his work in Public Policy and was honored at GALAEI's 20th year anniversary celebration with the inaugural David Acosta Revolutionary Award (He was GALAEI's founder.) GALAEI is now one of the two oldest organizations in the country serving Latino lesbian, gay, bisexual and trans individuals. He was a past contributing editor to Spanish Poz Magazine which honored him in its 1998/1999 winter issue as one of 49 Latinos in the nation who've made a difference in the area of HIV/AIDS. Once again in November of 2010 he was named by the same magazine as among the one hundred most influential people in the United States working on HIV/AIDS. He has received many other awards for his work in both arts and culture, GLBT civil rights, and HIV/AIDS activism advocacy. He is also the recipient of the 1990 Humanitarian of the Year Award from the Philadelphia Commissionon Human Relations and a past recipient of the 1989 Lambda Communiy Leader Award.Year.

His poetry has appeared in various literary journals and anthologies. Among them the Evergreen Chronicles, The Blue Guitar, the James White Review, The Painted Bride Quarterly, Philomel, Mayrena, The Americas Review, and the anthologies: American Poetry Confronts the 1990s, (Black Tie Press 1990), The Limits of Silence (Asterion Press 1991), Poesida, (Ollantay Press, 1995) and Floating Borderlands: Twenty Five Years of Latin American Poetry in The United States, University of Washington Press, 1998.

He has written and contributed articles to Cosa Cosa At Large on art and social change. In November of 2010 he curated "Rooted in Ancestors," for Semilla's opening Exhibit at the new gallery A Seed on Diamond.

In December of 2011 he curated "Witness: Artists reflect on thirty years of the AIDS Pandemic." "Witness" is a multi-media visual arts exhibition inviting artists to reflect on, explore and respond to the impact that the HIV/AIDS epidemic has had on our social, cultural and political life over the past thirty years. More recently he has served as a panelist for the Philadelphia Cultural Fund in 2011 and 2012.

In 2015 David curated "Critical Paths Towards Liberation: Kiyoshi Kuromiya, a Life" at the William Way Community Center.
Read more: [Philadelphia Gay News. Phila gay news. philly news - GALAEI marks 20 years of dedicated service leadership]
Date of Birth:

Employment:

Social/Political Groups he attends/attended:

Bars/Clubs he attends/attended:

His friends include: (type your name here, or names of others)

Testimonials to him (add a space before a new testimonial):

I worked with David before he became better known as a poet and activist. He was a dishwasher at More Than Just Ice Cream when it was located on Pine Street next to Giovanni's Room. David was mad for Maria Callas at the time.