Friel, Jack
NAME: Jack Friel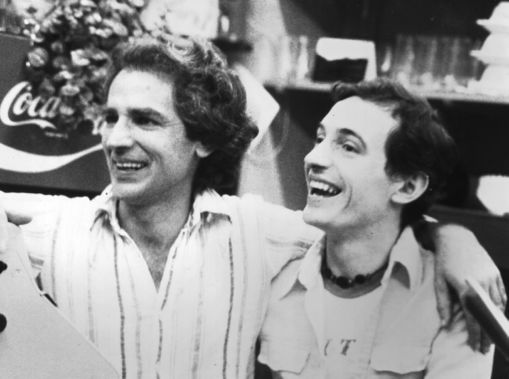 Jack Friel and Dickie Lance at the Hasty Tasty 1/5/76

Biography: Owned Hasty Tasty, Seasons, Bramwell's and the Back Street Baths. Active in the MCC.

From the Philadelphia Daily News obituary, Aug 08, 1986:
Jack Friel, a former Center City restaurateur, died Tuesday at his Sutton Towers apartment in Collingswood, N.J. He was 54.
He formerly operated the Hasty Tasty Deli, on 12th Street near Spruce, as well as Bramwell's Restaurant and the Rainbow Disco. He also formerly managed the Back Streets Baths, a health club on Chancellor Street near 12th.
Surviving is a brother, Charles.
A funeral service will be held in North Carolina. A memorial service will be conducted here at a future date.
Contributions may be made to Philadelphia Community Health Alternatives, c/ o The John Locke Memorial Fund, 1216 Walnut St., Phila., Pa. 19107.

Date of Birth:
Date of Death: 8/7/86
Age at Death: 54
Employment:

Social/Political Groups he attended: Metropolitan Community Church

Bars/Clubs he attends/attended:

His friends include: his two lovers, John Winfield and Dickie Lance

Testimonials to him (add a space before a new testimonial):