Campoli, Greg
NAME: Greg Campoli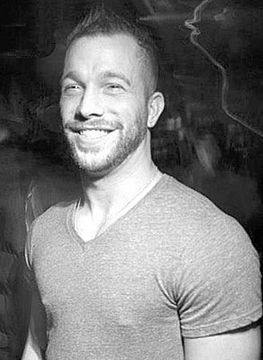 Biography:

2012 PGN Obituary by Jen Colletta:

Philadelphia native Greg Campoli died last weekend. He was 29.

The cause of death has not been made public.

Campoli was born and raised in Northeast Philadelphia and graduated from Archbishop Ryan High School in 2000 before earning his bachelor's and master's degrees in psychology from St. Joseph's University.

Campoli's best friend, Amy McHugh, said he came out while in college.

He was in a fraternity at St. Joe's, where his brothers were accepting of his sexuality, she said.

"All of those guys were really great and made the whole process really easy for him," she said. "And since then, he never hid who he was. He had a very strong personality and was never afraid to be himself and call people out who weren't."

Campoli had an affinity for collecting quirky items, McHugh said, and had a vast compilation of Smurf and California Raisin figurines, as well as shot glasses from the locales he visited.

"I always made fun of him for what a pack rat he was," she said.

Campoli never watched television but was very into music, McHugh said, and could often be found playing Mariah Carey and Celine Dion songs on Uncles' jukebox on a Saturday night.

Uncles' bartender Tony Lantz said he and Campoli became fast friends several years ago after Campoli began visiting the bar.

"He had a real presence," Lantz said. "When he came into the bar, all heads turned. And that wasn't just because he was a good-looking guy, he just had something about him that was very special and that people noticed. He had a way of lighting up a room."

In the past few years, he became an avid fitness buff and was considering becoming certified as a personal trainer.

A technology enthusiast, Campoli was always looking for the newest gadgets to add to his inventory, McHugh said.

Among his talents, she noted, was his ability to bring humor to any situation.

"He had the biggest heart. He was very personable and had a smile that would light up the room," McHugh said. "He had a great sense of humor; I don't think I've ever laughed as hard as I always did when I was with him."

Lantz said Campoli exuded positivity.

"He never had a bad word to say about anybody," he said. "He spoke very highly of his family and his friends and cherished them. He would do anything for them."

That open, affable nature made him a popular figure in the Gayborhood.

Lantz said Campoli would usually start his nights at Uncles and head to Tavern on Camac before making a tour of the Gayborhood hangouts, and would always head back to Uncles to say goodnight.

"He was pretty well-known and well-liked in the gay community," McHugh said. "We joked that he had a following because there'd be a group of younger guys who were just coming out that were always around him. He'd take them under his wing and show them around the community and introduce them to people. He really touched a lot of people and meant a lot to so many people."

In addition to his large circle of friends, Campoli is survived by his mother Patricia, sisters Michelle Campoli-Poll and Lisa, and niece Brittany.

Services had not yet been arranged by press time.

Friends have planned an informal gathering to remember Campoli at 9 p.m. Dec. 16 at Uncles, 1220 Locust St.
Read more: [Philadelphia Gay News. Phila gay news. philly news - Greg Campoli 29]

Date of Birth: 1983
Date of Death: 2011
Age at Death: 29
Employment:

Social/Political Groups he attends/attended:

Bars/Clubs he attends/attended:

His friends include: (type your name here, or names of others)

Testimonials to him (add a space before a new testimonial):