Britt, Deforia Rick
NAME: Deforia "Rick" Britt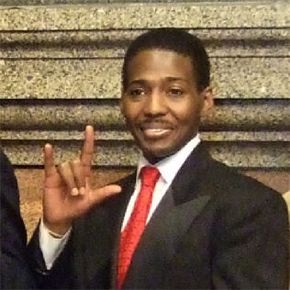 Biography:

PGN Obituary by Larry Nichols:

AIDS activist Deforia "Rick" Britt died May 4 from lymphoma. Five days later, he would have been 50.

The Philadelphia native was born May 9, 1960, and attended elementary school here until he moved to New Jersey. He graduated from Woodrow Wilson High School and studied nursing at Camden County College, where he earned an associate's degree.

Aside from his work as a licensed practical nurse at Temple University Hospital and studying for his bachelor's degree in nursing, Britt volunteered as the chair of the Community Advisory Board at the University of Pennsylvania's Center for AIDS Research from 2007 until his death. He had also served on the board of directors of ActionAIDS since 2008.

Laureto Farinas, ActionAIDS board president, said he had known Britt for 10 years, and the two had been introduced to the organizations by the late Dale Grundy, who passed away in 2007. Farinas added that Grundy and Britt worked on several boards and projects together in the time he knew them.

Tyrone Smith, Community Advisory Board member for CFAR, worked with Britt during the five years he was with the organization.

"Dale kind of mentored him and then from that he went over to the board of ActionAIDS," Smith said. "At CFAR is when I had the opportunity of working with him. At that time Dale was our leader and at Dale's passing, then [Britt] took the position on and did an excellent job. I worked with him on the Red Ribbon Awards over the years. He was a young man who I admired. Him being my junior, I have seen his growth in the community. It's a part of what is sometimes missed, the warrior kind of advocate, and he was a part of that to make sure that things were always equal to everyone."

Farinas said that outside of his work, Britt enjoyed traveling.

"He traveled extensively to the Caribbean. He frequented Jamaica," Farinas said. "His heritage was from Jamaica. He was very sensitive to the economic, health and social issues there."

In regard to Britt's work with activist groups, Smith said he "cared very deeply about having the voice of the consumer heard and represented on boards."

"Where it looked like it was being pushed out by other policies, he was dedicated to preserving diversity," Smith added. "That's really the way the community does an effective job, with diverse groups."

Farinas said that even after he became ill, Britt continued to dedicate some of his time to CFAR.

"He resigned his chairmanship just before he got sick but he continued the best he could," Farinas said.

A memorial service was held May 8 at Savin Funeral Home, 802 N. 12th St. ActionAIDS also hosted a commemorative service on May 26.

Britt is survived by his brothers Willie and Valdez Britt; sister Cynthia Britt; an uncle, Walter; two nieces, Geneva and Mikenzie, and a nephew, Barrett.

Date of Birth: May 9, 1960
Date of Death: May 4, 2010
Age at Death: 49
Employment:

Social/Political Groups he attends/attended:

Bars/Clubs he attends/attended:

His friends include: (type your name here, or names of others)

Testimonials to him (add a space before a new testimonial):