Baker, Norman
NAME: Norman Baker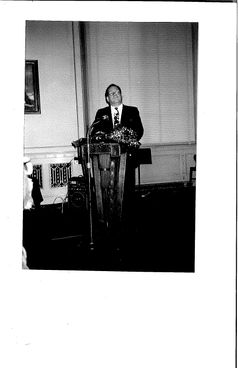 Biography:

From the PGN:

by Jen Colletta

Norman Baker, a longtime HIV/AIDS activist who volunteered for several local HIV/AIDS organizations, died Jan. 6 at age 58. Baker was a former resident of Coatesville, and had been living at Keystone Hospice House in Wyndmoor at the time of his death. A 1969 graduate of Coatesville High School, he was involved throughout the 1990s in numerous HIV/AIDS organizations in the area, serving as the president of the Philadelphia AIDS Advocacy Coalition and lending his talents to such groups as ActionAIDS and Philadelphia FIGHT.

Jane Shull, executive director of FIGHT, said Baker's tenacity made him an exemplary advocate for the local HIV/AIDS community. "Norman knew a lot about advocacy," Shull said. "He respected no boundaries and would just call anyone — he'd call the governor. And that attitude got people to talk to him and he was able to really influence people."

Michael Marsico, who met Baker nearly 20 years ago, said Baker was open to bringing the community's concerns to a wide range of city officials, such as those in the school district or police department who were not always initially supportive. "One thing I always liked about working with Norm was that there's often this group mentality, but Norm would always want to reach across and actually talk to folks on the other side of the issues," Marsico said. "He'd be willing to have conversations with them and would show up with his homework done, and that's how he got things done."

In 1991, Baker served on a committee that reviewed the feasibility of a condom-availability program in the Philadelphia school district and, along with other members of HIV/AIDS activist group ACT-UP, presented then-Superintendent Constance Clayton with a "report card" on her implementation of the program. He participated in numerous ACT-UP demonstrations, pressing for increased education and funding for HIV/AIDS issues, and was arrested at a 1992 protest in Harrisburg after pouring red dye into the Capitol fountain. "He was a very, very important presence in the early days," said Nan Feyler, chief of staff to the city's health commissioner and former executive director of the AIDS Law Project of Pennsylvania. "He definitely gave a lot of his time and energy to the community."

In addition to his HIV/AIDS and LGBT work on behalf of the Human Rights Campaign, Baker was a tireless mental-health and disabilities advocate and sat on the Philadelphia Mental Retardation Public-Awareness Committee and the governmental-affairs committee of disability agency The Association for Retarded Citizens of Pennsylvania. He was also a longtime supporter of Gov. Rendell, having worked on his campaigns for district attorney, mayor of Philadelphia and governor and was a member of the committee for his 2003 gubernatorial inauguration.

Baker was predeceased by his father Norman and is survived by his mother Alberta, sisters Paulette Nicholas and Beth Ewing and many nieces and nephews.

A funeral Mass was celebrated Jan. 9 and Baker was buried at All Souls Cemetery in West Brandywine.

Memorial contributions can be made in Baker's name to The ARC of Philadelphia, 2350 W. Westmoreland St., Philadelphia, PA 19140; Keystone Hospice House, 8765 Stenton Ave., Wyndmoor, PA 19038; or St. Cecilia Church, 99 N. Sixth Ave., Coatesville, PA 19320.

Jen Colletta can be reached at [[1]].
---
From Kevin Barry's blog:

http://kevelations.wordpress.com/2010/07/29/the-world-needs-more-norman-bakers/

[world needs more Norman Bakers]
July 29, 2010, 5:30 pm
Filed under: Activism, [[2]], [[3]], [[4]], Obituary

Norman Baker, a long time mental health and disabilities advocate, passed away January 6, 2010 at age 58. I first met Norman in 2003 when we both served on the Human Rights Campaign's Philadelphia Steering Committee. Norman was a man of great passion who put his all into every task he decided to undertake. Throughout the 1990's, Norman was one the front lines of HIV/AIDS activism. He was the "Man in the Arena" who would not take no for an answer. A longtime supporter of Gov. Ed Rendell, Norman would think nothing of calling the governor on the phone whenever he disagreed with his policy. More than that, Norman was a friend.
This month marks the six month anniversary of his death and I still find myself thinking of him almost every day. Norman was a special man in that he walked tall with integrity and didn't care what other people thought about him. As a gay man and devout Catholic, Norman was, in many ways, a walking contradiction. He was very proud of his Catholic identity in a time where Catholic doctrine condemned those who were not heterosexual along with those whose gender identity did not conform with society's preconceived definition of what a man or woman should be. When I asked how he reconciled being a devout Catholic and an openly gay man, he nonchalantly replied, "Who cares?" and continued to explain how they were both part of his identity and it shouldn't matter to anyone else.
Norman was a close friend of mine despite our 25+ year age difference. He would share his wisdom with me every chance he could. The last time I saw Norman, he called me up on a Saturday morning in July 2009 and said, "Kevin, I want to do a day trip to Ocean City, NJ and you're going with me. I'll be there in a few minutes." he wasn't asking me. He was telling me. Luckily, I didn't have any plans that day.

In the car ride, we caught each other up on what was going on with our lives and offered each other advice on the men we were dating or were interested in. Norman always had a way of making me feel special and letting me know that I shouldn't take any shit from anyone because I was worth more than that — something that I am still trying to accept in myself.

When we got to the beach, I bought us both beach tags for the day and we went to sit on the crowded beach. He laughed as I used my Blackberry to check out/take photos of hot guys. He chuckled at me and said, "You are too much. haha". After about 2 hours on the beach in the 90+ degree weather, we decided it was too hot and went to walk the boardwalk. Our first stop was Shriver's Salt Water Taffy and Fudge. As we entered, Norman told me how his father used to take him there as a boy. He bought salt water taffy and I bought fudge.

After walking the boardwalk for about an hour and a half, we started to get hungry. While the funnel cakes sold on the Boardwalk made my mouth water, he insisted that we get something a little more substantial. I agreed. We went cruising for the best seafood shop around and since we were both tired, we wanted somewhere that wasn't overly crowded as well. He settled on Spadafora's seafood on the corner of 9th and Atlantic. We were pleasantly surprised.
After we ordered, we commented on how adorable our waitress was and he asked personal questions about her life. She was glad to tell him what her future plans were as I sat and watched them interact. After she took our order, Norman said, "Oh, she is just adorable." I agreed. He then asked if we could dine family style since everything sounded so good to us both. I agreed again. The food was AMAZING! We both rolled out of there with full tummies.
Before we left, I picked up a magnet from Spadafora's so that I could remember the day. It was the best time I had since I moved back to Philly six months prior. On the way home, I told Norman that I was still having trouble adjusting to Philly. He said something to the effect of "do what you have to do then move." I could always count on Norman to be upfront and not mince words.

Norman was someone who got me and one of the few people whose advice I would listen to because I always knew he would be honest with me and smack me when I needed to be smacked. When I found out he had passed away, I was heartbroken. I never received a phone call or email as everyone just assumed that someone else told me then on my way to work one day, I picked up a copy of the Philadelphia Gay News and saw his photo. As I began to read it, I realized it was an obituary. My jaw dropped. After reading the obit, I started to cry. I don't cry often and especially not in public. I just didn't know what else to do.
I learned things that I never knew about Norman while reading it. For example, he was arrested at a 1992 protest in Harrisburg for pouring red dye into the Capitol fountain. Norman didn't share much about his past with me because he preferred to focus on the present. He was a good man, a passionate advocate and a close friend.

To honor his memory, I wrote a short piece about him for phillygaycalendar.com and a friend agreed to write an obit for him in POZ magazine. The latter brought a smile to my face at a time when I was stricken with grief.

The road in life is full of many wonderful surprises. For me, Norman Baker was one of those surprises. I still think of him several times a week and smile as my eyes begin to water. While his death was tough for me to accept, I am glad that I had that one last day with him. When I think of Norman, I will think of our trip to Ocean City and how he always used to piss me off and make me smile at the same time. I saw a lot of myself in him and will remember him fondly. The world needs more Norman Bakers and I feel lucky to have met this one. He was an original and could never be replaced.
---
The POZ Obituary:

February 16, 2010
Philadelphia HIV, Mental Health Activist Norman Baker Dies

Norman Baker, a longtime HIV/AIDS activist who served as president of the Philadelphia AIDS Advocacy Coalition and volunteered with ActionAIDS and Philadelphia FIGHT, died at the Keystone Hospice House in Wyndmoor, Pennsylvania, Philadelphia Gay Newsreports. He was 58.

In the 1990s, Baker helped review how well the Philadelphia school districts implemented condom-availability programs, and he participated in numerous ACT UP demonstrations to increase HIV/AIDS education and funding. In addition, as a member of the Philadelphia Mental Retardation Public-Awareness Committee and the Association for Retarded Citizens of Pennsylvania, he advocated for mental health issues and for disabled people's human rights.

"Norman knew a lot about advocacy," said Jane Shull, executive director of Philadelphia FIGHT. "He respected no boundaries and would just call anyone––he'd call the governor. And that attitude got people to talk to him, and he was able to really influence people."
An article about the condom distribution campaign that he helped organize is here:
http://articles.philly.com/1991-12-17/news/25811381_1_condom-program-latex-condoms-abstinence

Picture: (Insert picture if available)
Date of Birth: 1/3/1952
Date of Death: 1/6/2010
Age at Death: 58

http://www.findagrave.com/cgi-bin/fg.cgi?page=gr&GRid=46442011

Employment:

Social/Political Groups he attends/attended: Human Rights Campaign Steering Committee

Bars/Clubs he attends/attended:

His friends include: (type your name here, or names of others): Chris Bartlett, Ken Oakes, Kevin A. Barry

Testimonials to him (add a space before a new testimonial):